If you're looking for exhibition trailers for sale or hire then you've come to the right place. Tow Master manufacture event trailers for sale in a range of styles and sizes from 2.4 up to 7 metres. Browse our range of display trailers for sale from our stock or you can have an event trailer manufactured to order by our team of master craftsmen.
Our display trailers available for purchase include a big range of popular options such as furniture, stage/platform, flagpoles, generators etc and can be vinyl wrapped or adorned with decal graphics to showcase your brand.
Find out more about our exhibition trailers for sale by clicking on the links below and browse our Nevada, Colorado, Oregon and California styles of trailer, or contact us about something bespoke.
You can see more of the many trailers we've built in our extensive gallery.
If you're looking to hire you can find out more about our hire fleet here.
The Nevada is one of our smaller and more compact exhibition trailers for sale. It's ideal when space is limited or for town centre promotions.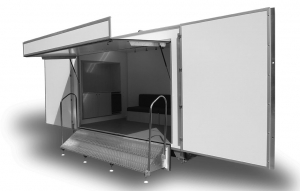 The simplicity of the set up and lack of any heavy lifting make the Colorado a popular choice. The range of Colorado trailers are our bestselling mid-range trailers.
The striking bifold doors are the most striking feature of this event trailer for sale with a range of optional extras. Secure and functional regardless of weather conditions this top of the range trailer is appealing and popular. Add a pod or stage for added impact.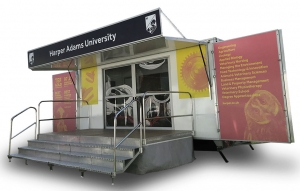 The latest addition to our exhibition trailer for sale range is the California. Stand out anywhere with this distinctive trailer which includes stylish sliding doors opening into a large modern interior. Optional extras include a large pod or stage to maximise interior space.
Available on Finance
If you buy your trailer on finance we can point you in the right direction for competitive finance rates
Case Studies
Read how we have met our customers requirements and see what they have to say about us
Trailer Graphics
We offer a bespoke graphic service.
Over 20 years manufacturing experience
Efficient production times
Excellent quality
Competitive pricing
Collaborative sales process
12 month back to base warranty
I've been really impressed with all areas of Tow Master's service. From handling of enquiry, demonstration and hand over of the van, to finished product quality, the team delivers every time. It gives us a very high-quality workplace and image of the company as we visit client sites. I gave the van its maiden voyage as a working unit a few weeks ago, up to Scotland. It's working perfectly, looks professional and I'm extremely pleased. Tow Master did a superb job on it.
Tow Master are straight talking, very collaborative and clearly know their market. I'm very happy with the way our project has been progressed, from handling of initial enquiry through to delivery, demonstration and hand over of the exhibition trailer, everything has been handled very competently. Furthermore, the product quality and service offered by Tow Master has been exceptionally good. The exhibition trailer is robust and I am confident it will stand up well to the rigorous usage it will receive.
We've used the trailer most weekends since it was delivered in May, that's 14 or 15 times and it has performed very well indeed and still looks like new. It looks much more professional compared to tents and ropes and it's far easier to use – we just hook it up to a towing car and off we go. We've had lots of positive comments about the 4.8 metre Colorado trailer at the shows. It gives us good exposure and the right image. I've only positive things to say about dealing with Tow Master. They worked to our deadlines and were no hassle to deal with. The Tow Master trailer has been a good investment for us.