Hiring event trailers nationwide is cost effective with our easy to use hire service
As well as manufacturing trailers we offer an event trailer hire service. Hiring event trailers from our large fleet is easy and straight forward. Our hire fleet includes a range of different models and sizes, so we have something to fit most requirements and budgets. So if you're looking at hiring exhibition trailers you've come to the right place.
Our event trailer hire fleet is kept fresh, as we replace the trailers on our fleet regularly. None of our fleet is more than three years old so you're assured of quality at all times when hiring event trailers from us.
Hiring show trailers from us is straightforward. You can see the options available on our hire fleet below. When hiring exhibition trailers from us you need to let us know the style and size of trailer you require. If you're not sure, an idea of your plot size means we can make some recommendations for you. It would also be useful if you have an idea of the dates you are looking to hire the trailer from and to.
We can deliver the trailer to your chosen location so that it's ready to go for your event.
You can choose from the following models when hiring event trailers from our large fleet, click the links below to find out more about hiring show trailers and what we have available: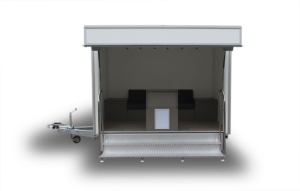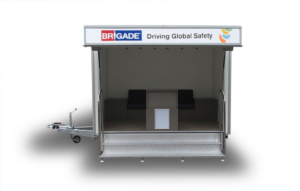 With plenty of seating and storage this compact trailer is big on style and impact. It's ideal where space is limited. So, if you think hiring event trailers is only for large spaces, think again.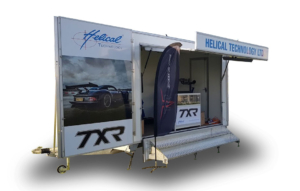 Hiring exhibition trailers is straightforward with this 3.6 metre Colorado. With striking display wings, open frontage and clear floorspace it's easy to see why this trailer is popular and frequently booked by anyone looking for flexibility and the option to do things your own way.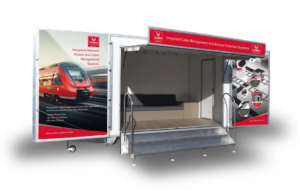 This is a popular and busy trailer. It has striking display wings, open frontage and seating and tables inside. It's big on style and creates fantastic stand out for your brand.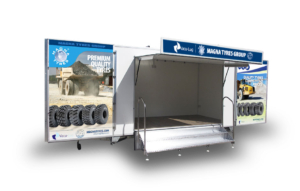 If you want clear interior space inside your trailer for flexibility and options, this is the biggest on our hire fleet. It's a popular choice that gets booked up fast, so if you're hiring event trailers from us don't hang around.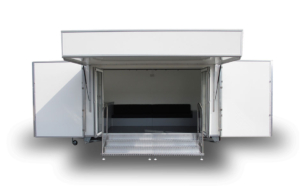 With its distinctive bifold doors, this Oregon trailer is versatile and impactful. It's ideal in any weather conditions. The interior is bright and open with a galley area, which is useful for entertaining.
This 4.8 metre Oregon trailer is ideal in all weather conditions. It has glazed bifold doors, interior seating, a galley and good external branding opportunities on wings and logo board for added standout.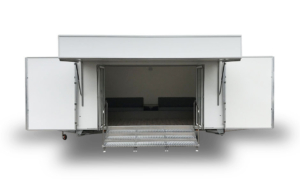 This is the sister trailer to the HT005. The features are identical, except this one has a galley housed inside the nose cone, leaving more internal floor space. The Ht005 and Ht006 are popular, so if you're hiring exhibition trailers from us, get in touch quickly.
Similar to the HT005 and HT006 on the outside, the HT007 is more spacious inside and has more seating, coffee tables as well as a well-defined galley area.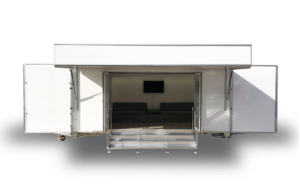 This is the sister trailer to the HT007. The only difference is the manual slide out pod on this trailer which maximises the floor space internally.
This is an identical trailer to the HT008, except the pod is electric rather than manual, making set up that little bit quicker and easier.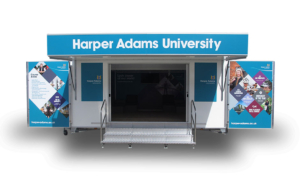 This top of the range, striking trailer will ensure your presence at shows and events is hard to miss. The large, powered walk in pod adds a real wow factor as the sliding doors open into a spacious, modern interior. Seating and storage space is generous. The galley area can be partitioned off or left open, whilst the large rigid canopy with logo board teams perfectly with the optional stage, for maximum impact.
Don't forget hiring exhibition trailers is cost effective and gives security and protection from bad weather at events.
After quoting and adding any optional extras to your event trailer for hire quote, you can then confirm whether you would like to proceed with the booking. A deposit payment secures the reservation for you.
To find out more about hiring event trailers from us, discover more about our hire fleet, or to request a no obligation quote for hiring exhibition trailers, email our hire team or call us today on 01942 226633 and we can talk you through how quick and easy hiring show trailers is.
Available on Finance
When you buy your equipment from us - we will offer you the best finance rates, and we will do all the paperwork for you.
Case Studies
Read how we have met our customers requirements and see what they have to say about us
Trailer Graphics
We offer a bespoke graphic service.
Over 20 years manufacturing experience
Efficient production times
Excellent quality
Competitive pricing
Collaborative sales process
12 month back to base warranty
I've been really impressed with all areas of Tow Masters service. From handling of enquiry, demonstration & hand over of the van, to finished product quality, the team delivers every time. It gives us a very high-quality workplace and image of the company as we visit client sites. I gave the van its maiden voyage as a working unit a few weeks ago, up to Scotland. It's working perfectly, looks professional and I'm extremely pleased. Tow Master did a superb job on it.
Tow Master are straight talking, very collaborative and clearly know their market. I'm very happy with the way our project has been progressed, from handling of initial enquiry through to delivery, demonstration and hand over of the exhibition trailer, everything has been handled very competently. Furthermore, the product quality and service offered by Tow Master has been exceptionally good. The exhibition trailer is robust and I am confident it will stand up well to the rigorous usage it will receive.
We've used the trailer most weekends since it was delivered in May, that's 14 or 15 times and it has performed very well indeed and still looks like new. It looks much more professional compared to tents and ropes and it's far easier to use – we just hook it up to a towing car and off we go. We've had lots of positive comments about the 4.8 metre Colorado trailer at the shows. It gives us good exposure and the right image. I've only positive things to say about dealing with Tow Master. They worked to our deadlines and were no hassle to deal with. The Tow Master trailer has been a good investment for us.